Málaga Plus Language School
Malaga Plus Language School is part of a large network of associated schools with more than 30 years of experience in teaching foreign languages. The school was founded in 1989 and each year receives more than 750 students from all over the world; Korea, Germany, Sweden, Holland, Austria, Italy, etc., with summer being the season with the highest number of students.
Malaga Plus is located in the Pedregalejo district of Malaga, a quiet residential neighborhood noted for its large villas and tree-lined avenues, making it the ideal place to learn languages. We are only 100 meters from the beach, so after class you can enjoy the beach and a promenade full of bars, restaurants and, above all, beach bars, where you can taste the typical fresh fish, or modern fusion cuisine. Thanks to the pleasant temperature in the province of Malaga throughout the year, you can swim in the small coves of Pedregalejo beach, a very popular place among locals and students of Spanish.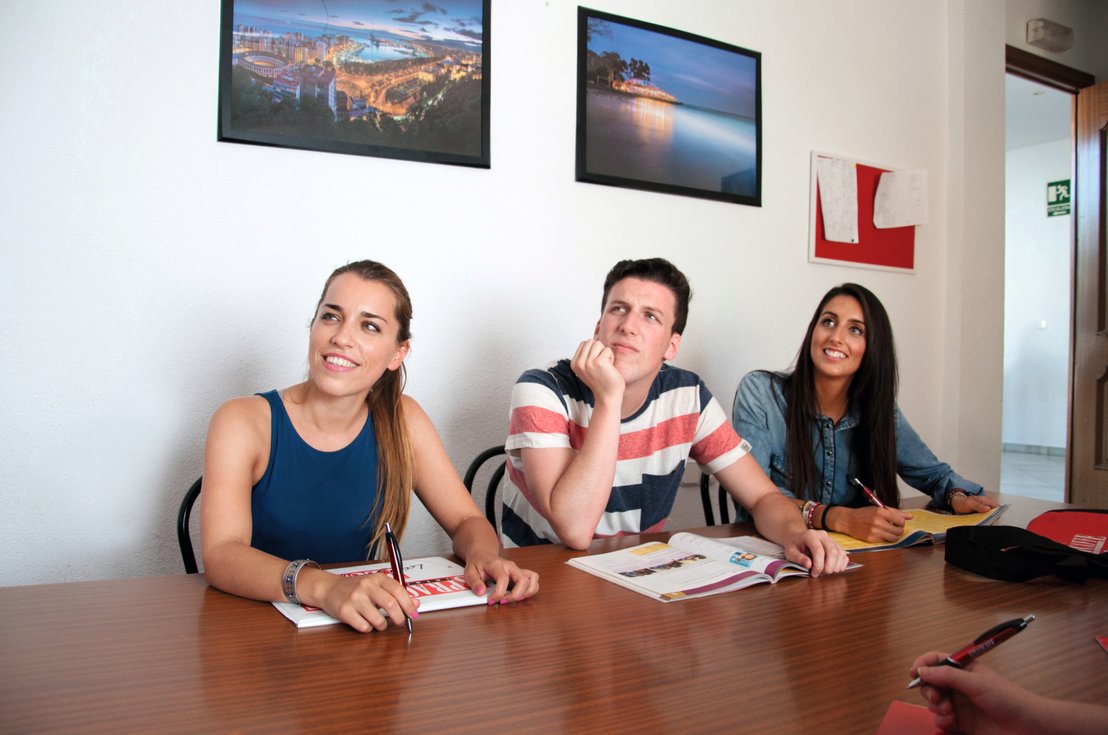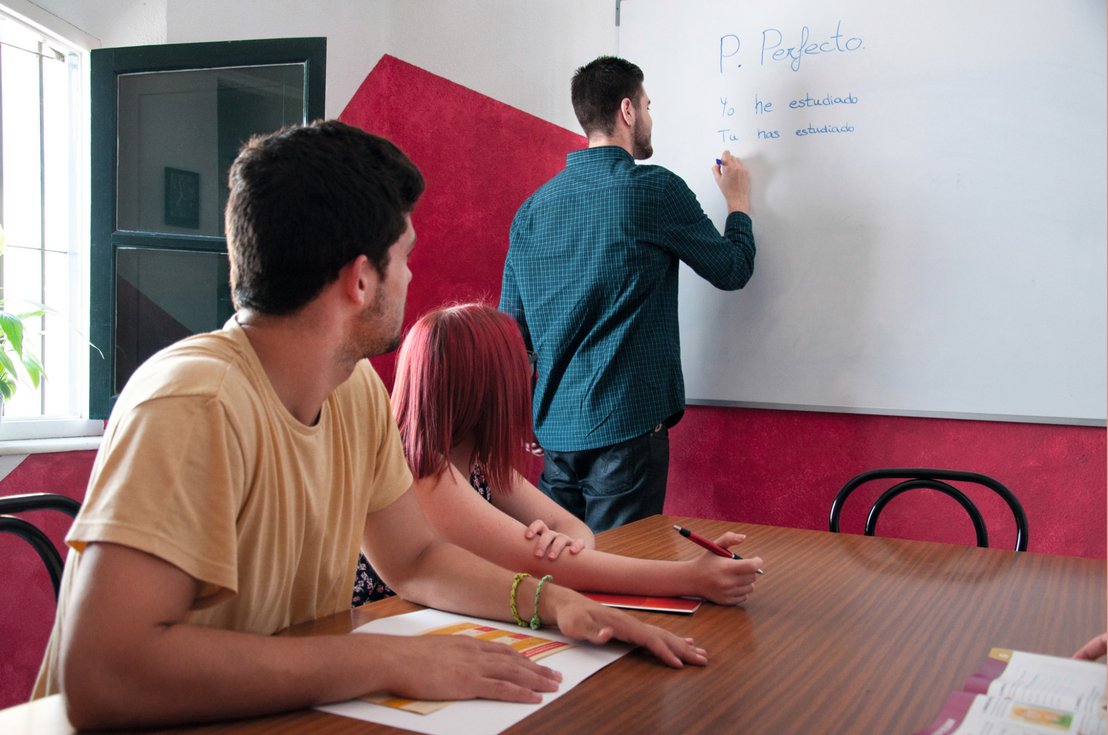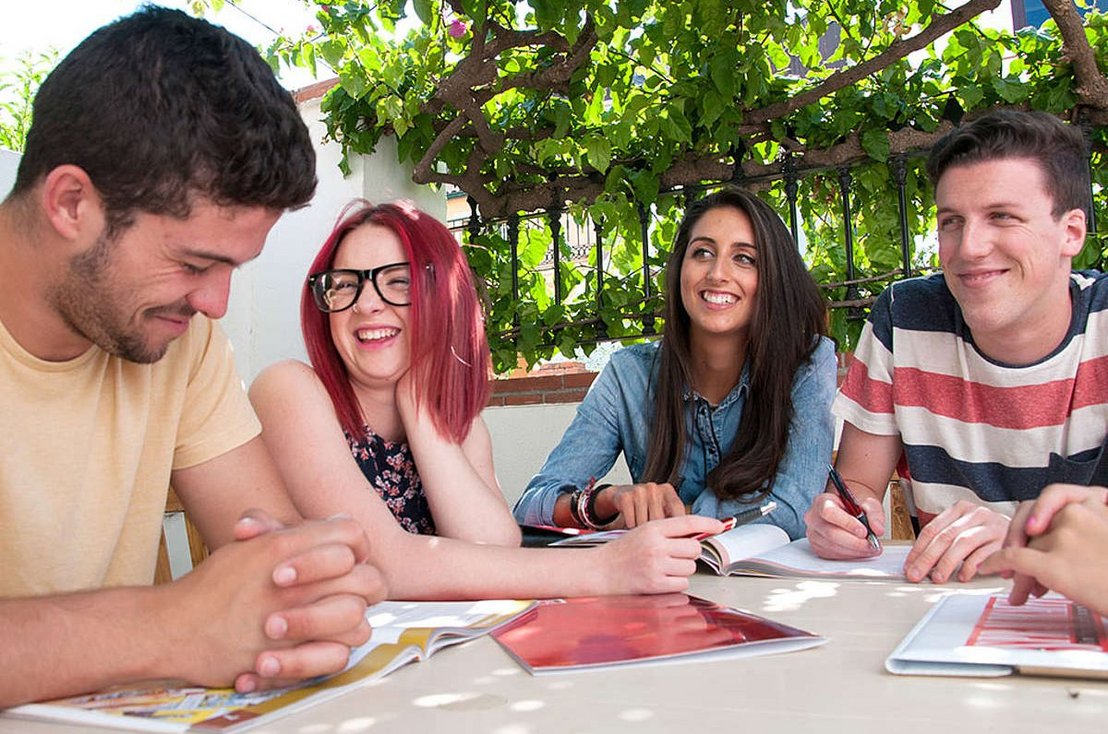 Philosophy of Málaga Plus
At Malaga Plus the whole team works together to offer a quality service to students of all ages and nationalities who want to learn Spanish in Malaga or other languages abroad. With more than 30 years of experience in the education sector we want to offer our services to promote languages.
The goal of the Málaga PLUS team is always focused on offering quality teaching to our students and providing them with the best services so that learning languages becomes an experience. Day by day we work to make our courses a success and to improve the student's language level with ease, and we listen to them to see what their needs are, which allows us to renew ourselves and to always have the best offer in courses and products.
The Málaga Plus educational center consists of 12 bright classrooms, a library and study rooms. For you to relax after class we have a lounge area, where you can have a drink with your classmates while you practice Spanish, or enjoy our outdoor terrace, ideal for breaks on sunny days. When the weather is nice, which is common in Malaga, we have another large terrace where we teach classes and hold activities such as welcome parties, salsa and flamenco classes, paellas, or other activities.
Our language school Malaga Plus is an accredited center by Instituto Cervantes, so we meet all the educational requirements demanded by this recognized institution. We offer Spanish courses to students of different nationalities who travel to Malaga to learn the language. In addition to our effective teaching methodology, there are many reasons why Malaga is the ideal destination to learn Spanish. For more information about our language courses in Malaga, click here.
Why choose Malaga Plus Language School?
Our school stands out for its family atmosphere, personalized and direct treatment, and our flexibility. We believe that you can only prosper by giving each person what they need. That is why every student is listened to and we are committed to solve any problem that may arise until you are completely satisfied.
At Malaga Plus we will support you in everything you need from day one. There are many services that we offer and in case of any setback you will always have our help. From accompanying you to the doctor or pharmacy in case you are sick, to guide you and help you in the bureaucratic process with Spanish organizations and universities, and so on up to 1000 possibilities more, completely free of charge. We also have information about activities We also have information on activities to do in the city, both organized by the school, such as our "Welcome Parties", as well as those organized by other specialized companies. Within the repertoire you will find a variety in which each student can choose what best suits his or her preferences. You can find more information about activities here.
Below are some of our usual services:
✔ Library book lending service.
✔ Laundry (*).
✔ Printing of boarding passes free of charge.
✔ Loan of sports equipment (nets, balls, etc).
✔ Tourist brochures.
✔ Tourist guide service for groups.
Transfer to and from the airport: round trip. In private tourism, 24 hours a day (*).
Invitation letter: to obtain a visa( *).
✔S upport in applying for free bureaucratic formalities for foreigners: extension of stay, proof of studies or accommodation, complaints, etc.
✔ Free Wi-Fi in the school.
✔ Computers for free use at the reception desk.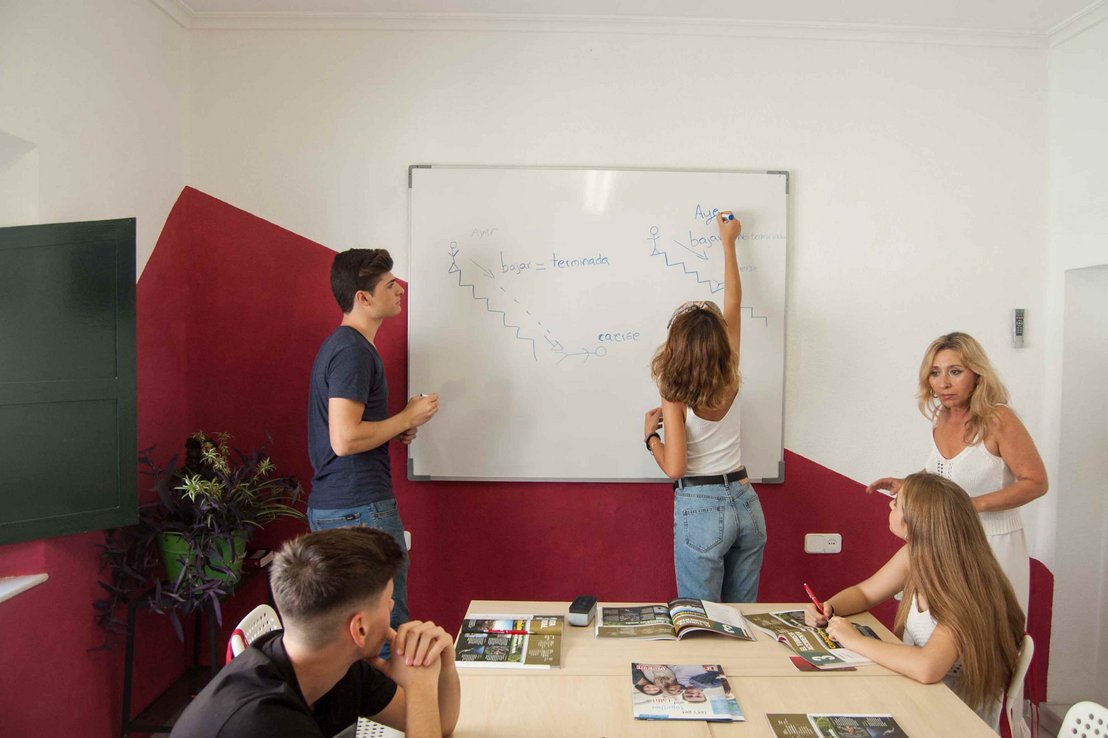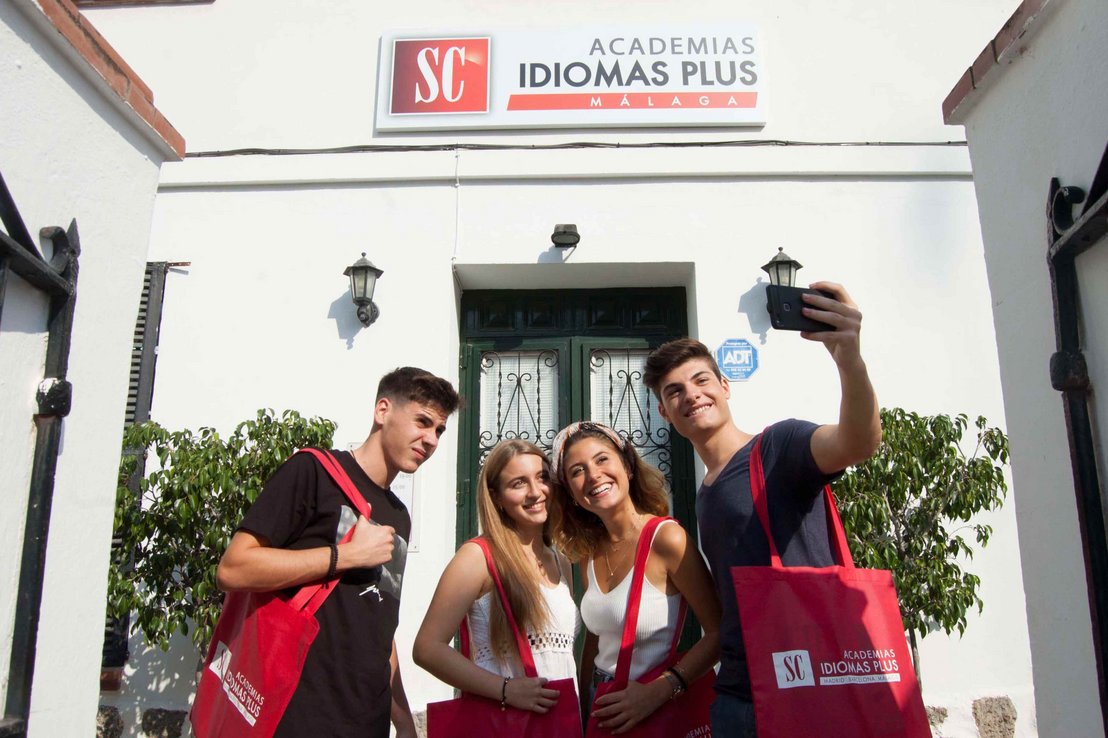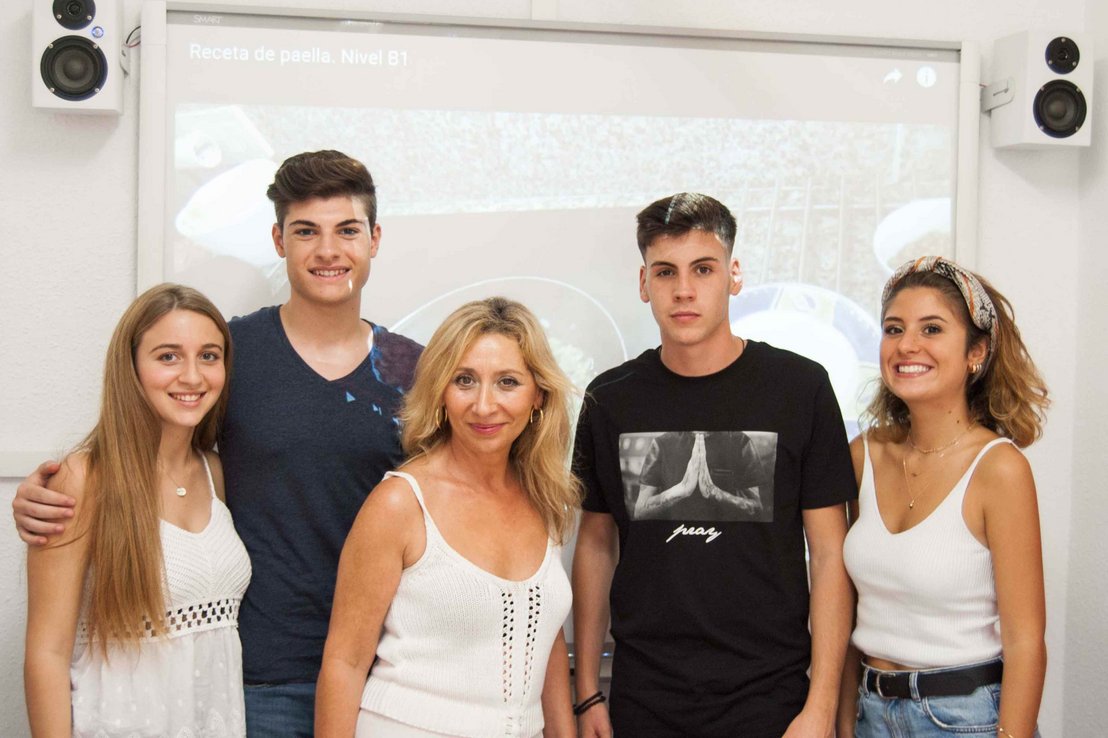 Learn languages in Málaga
Learning languages in Malaga will be an unforgettable experience. Under the sun, the good weather and in a relaxed atmosphere near the sea, you will study with all the necessary comforts. Our team of teachers and our efficient methodology will make learning languages in Malaga a success. While you improve your level you will be able to enjoy your free time in the city and surround yourself with the people of Malaga, open and welcoming people.
Málaga PLUS is specialized in Spanish courses for foreigners, but also offers you the possibility to to learn languages abroad such as English, German, French, Italian, Chinese and Arabic.
Spanish courses in Malaga
We are a certified center by the Instituto Cervantes, and every year we receive students from all over the world who want to learn Spanish with us. We offer Spanish programs for both teenagers and adults with a wide range of courses and schedules. For young people, Malaga PLUS is an ideal school to learn Spanish because of the safety of the area and all the facilities we provide for accommodation, airport pick up, classes and the program of activities led by experienced instructors.
With Sprachcaffe you can travel abroad and study languages (English, German, English, Italian, Chinese, and Arabic) while living a unique experience. We have available more than 20 destinations around the world, with a wide range of possibilities when it comes to choosing courses and accommodation.
In Málaga PLUS we will inform and advise you about everything you need to know. We organize your trip and you just take care of enjoying it.
Do you have doubts or need advice?
Contact us atWe will be happy to give you all the information you need.
Málaga PLUS Team - Direction and management
At Malaga Plus we are specialists in the teaching of the Spanish language, more than 30 years guarantee us as a high quality Educational Center. Our main objective is to offer our students a quality teaching and for this our team is highly involved. We design our own educational material and implement our own methodology for learning Spanish based on communication and practice.
Antonio Jimenez
School Manager
antonio@malagaplus.com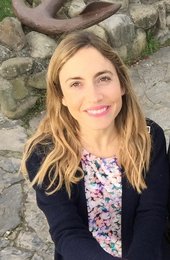 Paula Bech
Student Support
info@malagaplus.com
Auxiliadora García García
Head of Studies
jefedeestudios@malagaplus.com
We have a team of qualified native teachers with extensive experience.
Student reviews at Málaga PLUS
On this page you will find different testimonials that Málaga Plus students themselves have wanted to share with us.
Anja Verdegaal (The Netherlands)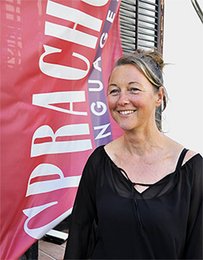 I can recommend Málaga Plus to everyone. I chose this school because it is outside the center, located in a quiet but lively neighborhood in Pedregalejo. And also because the school is cheap. With the bus that runs every 10 minutes you get to the center quickly. The school is close to the beach where there are many restaurants and a long promenade.
The classes are customizable, as intensive as you want. For me, as a beginner, a little bit of conversation and grammar is perfect. We talked about many topics in Spanish. From my school I organized the whole stay, and the total package is good in comparison price-quality. Malaga for me is pure life.
William Mann (United States)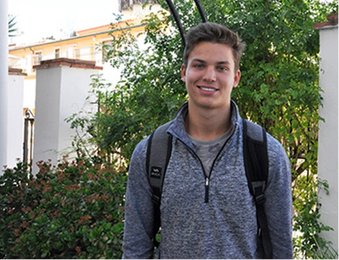 The teachers at the school are very good. The placement in a class according to my level was very accurate. I think there are classes in the school adapted to all levels of knowledge.
The accommodation is good too. My apartment is very clean and close to the beach.
The truth is that I enjoyed a lot during my stay in Malaga Plus.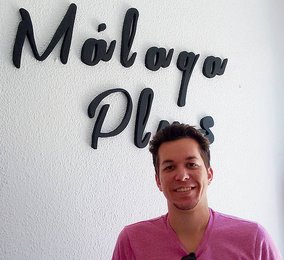 Hello, my name is Luiz and I am Brazilian. I studied for three weeks at the Malaga Plus school, although I would have liked to stay longer. The climate is undoubtedly the best in Spain, with many sunny days but not too hot. The location of the school is excellent, a quiet neighborhood with beautiful beaches and surrounded by options to go out with friends to drink and eat.
The accommodation is very close to the school, beaches and supermarkets, and it is possible to visit many museums and historical places in the city. Also, the location of the city is very good for those who want to travel around the south of Spain and visit historical cities such as Granada or Seville, or even take a trip to Morocco and have a very interesting experience.
Other experiences in Málaga PLUS
The best method to learn Spanish
At Málaga PLUS we believe that the best method to learn languages is based oncommunication. We believe in the oral skills of our students, so from the very first day we encourage them to express themselves in the new language.
Our Spanish programs are participatory and we are always looking for the collaboration of our students in class, creating an ideal learning environment. We make students have fun while they progress with the language, which increases their motivation to learn.
In addition to following our own textbook, we use a wide range of current didactic material, such as magazines, audiovisual material or games, and the teachers propose topics of conversation and debates related to current events and the culture of the country. In this way the students practice all the vocabulary and grammar learned in class.
At Málaga Plus you will learn the Spanish language in a relaxed way and you will advance almost without realizing it. All classes are taught in Spanish. Especially in the beginners' courses, gestures, role-plays and illustrated dictionaries are part of the lessons and ensure a direct perception of the subject matter from the very beginning. In addition, our school will offer you support in everything you need.
In the more advanced level classes, students prepare speeches, read newspaper articles or listen to songs, and there is a wide range of extracurricular activities to complement and consolidate the contents studied.
We have a team of native teachers, qualified and passionate about teaching the Spanish language. They will teach the classes in a dynamic way, so that you will have fun while you learn. The interaction between teacher and student, or between classmates, is very important in our lessons.
In addition to our method, the multicultural atmosphere of our school sets us apart. Our students come from all over the world. This will also mean that you will have to communicate with them in the language studied in class, practicing even more everything you have learned.
Study Spanish in Malaga PLUS
If you are going to study Spanish, at Málaga PLUS we use our own method, recognized by the Instituto Cervantes, as well as other methods that were particularly recommended for ELE education. The result is the accreditation as a member center of the Instituto Cervantes, which also certifies us a high success rate in the official DELE exams.
How to get to Málaga PLUS?
Málaga PLUS Academy is located in the residential area of Pedregalejo, just five minutes walking distance from the beach.
The most convenient way to get to Málaga PLUS is by bus. You have the following bus stops and lines near the school:
Avda. Juan Sebastián Elcano (Arroyo Jaboneros) stop.
Lines: 3, 11, N1
Juan Sebastián Elcano Avda. stop (Las Acacias)
Lines: 3, 11, 29, 34, N1
Our office hours are Monday to Thursday from 09:00 to 19:00 h., and Fridays from 09:00 to 16:00 h.