Málaga Plus Spanish School since 1989
Whether you want to learn Spanish from scratch, for professional or private reasons, at Malaga Plus Spanish school you will be welcome. With more than 30 years offering a wide and fun program to study Spanish in Malaga you will be in good hands.
Our native teachers are passionate not only about teaching Spanish as a foreign language but also about Spanish culture and customs, placing great emphasis on teaching methods that focus on communication. In this way, you will progress quickly and gain confidence in speaking Spanish.
Our Spanish school for foreigners is located just a few meters from Pedregalejo beach, in a quiet and safe area, which you can enjoy after your classes. Málaga PLUS stands out for its multicultural, familiar and friendly atmosphere where you will meet students from all over the world to practice your Spanish.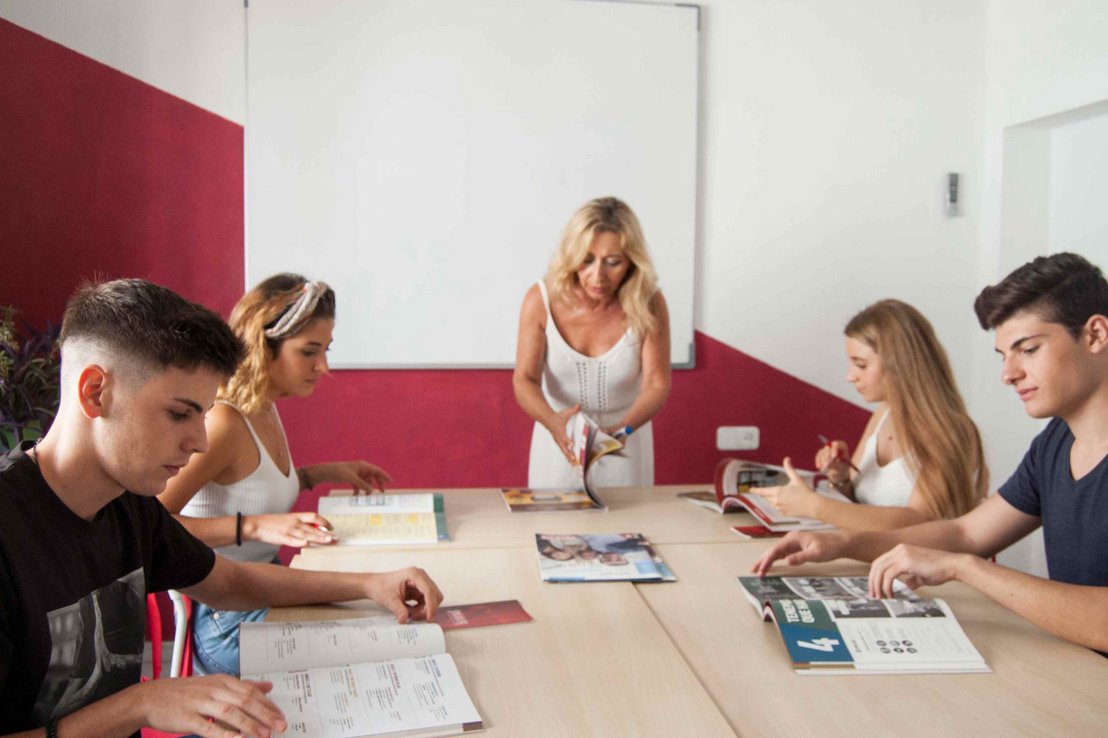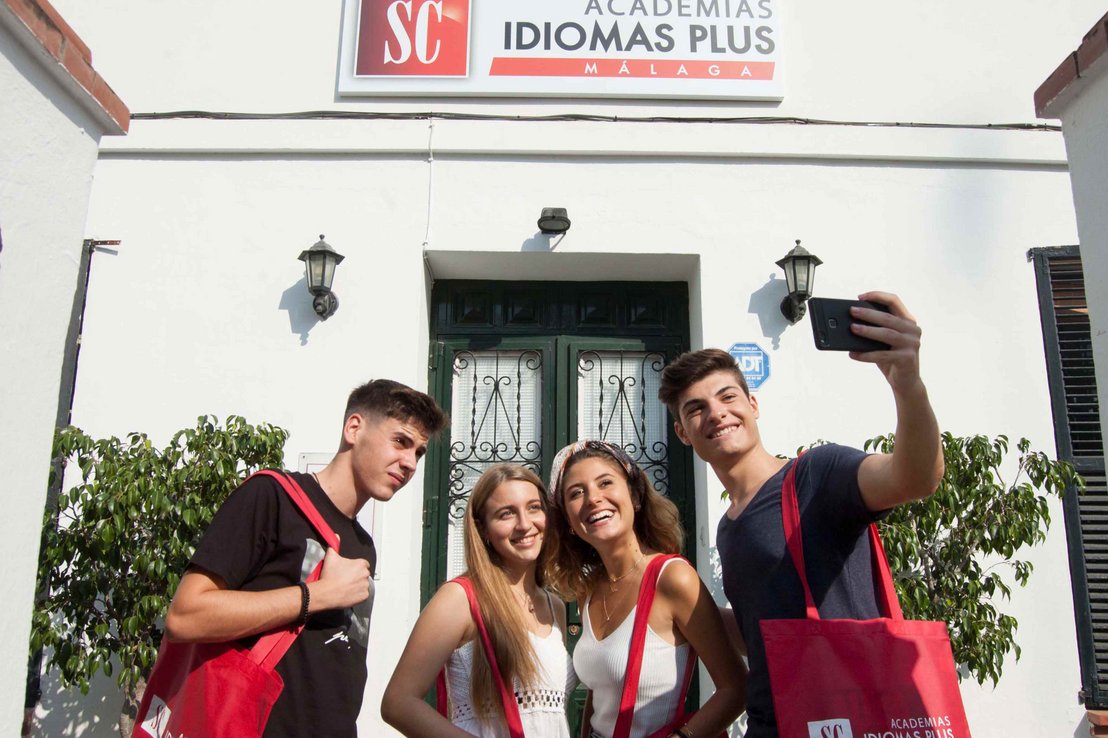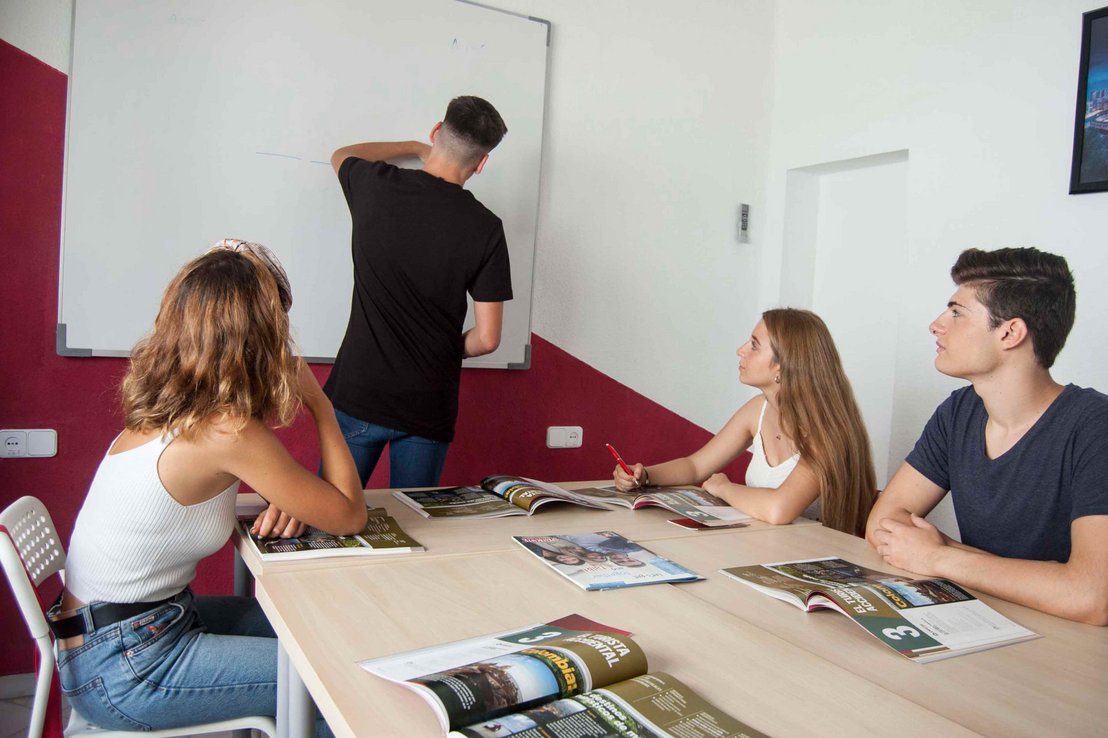 Learn Spanish in Malaga Plus
With our Spanish programs, learning Spanish is easy and fun! At Málaga Plus, we make sure that your Spanish course is perfectly adapted to your needs. In our bright classrooms, on our terraces or outdoors, our team of teachers will help you to improve your Spanish level in a short time. Our Spanish language school in Malaga is part of the Sprachcaffe schools, a network of schools dedicated to teaching languages to foreigners with more than 30 schools worldwide. At Malaga Plus we make sure to create your tailor-made Spanish course!
Choose between face-to-face Spanish classes or online classes as well as a schedule that fits the flexibility you need. Whether you prefer to study in the morning or in the afternoon, just once a week or every day, we will make it possible on the date you want.
Before you start your Spanish classes, we will send you a Spanish level test so that we can assign you to a class according to your knowledge of the language.
Certificate of Completion
At the end of your course you will receive a certificate confirming your participation in the Spanish course and the language level achieved (according to CEFR). We also prepare you for the DELE or SIELE and CCSE certificates.
All our courses to learn Spanish in Málaga Plus school
In Málaga Plus we think about the needs of all our students, that's why in our school you will find different types of Spanish programs and courses from which you can choose the one that best suits your needs. If you decide to study Spanish with us you will have a team of native teachers who will guide and help you from the first moment of your learning, and thanks to our methodology, in a short time you will be able to express yourself fluently in Spanish.
To guarantee that your language trip in Malaga will be a complete linguistic immersion in Spanish, we offer you other services such as accommodation in Spanish host families, in residence or in our school, a program of activities Come to study Spanish in Malaga Plus and get to know the city of Malaga together with other students and practice what you have learned during your Spanish classes!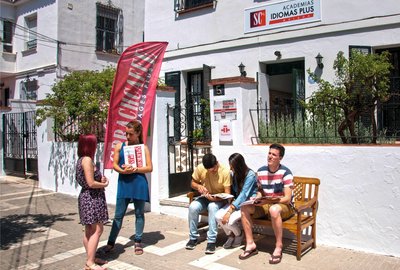 Learn Spanish in the wonderful city of Malaga
Discover more »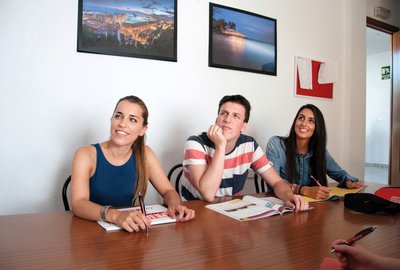 DELE preparation and nationality
Get your Spanish certificate or Spanish nationality. We help you!
Discover more »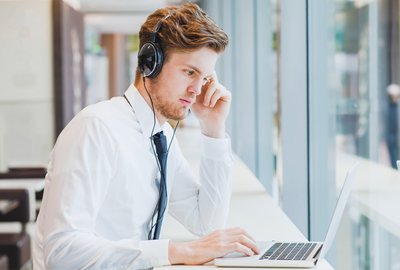 Learn Spanish online with our online training
Discover more »
Why study Spanish at Malaga Plus?
Málaga Plus is a center recognized and accredited by the Instituto Cervantes, the organization officially dedicated to the study and use of Spanish that certifies and guarantees an excellent teaching of the language, we are also part of FEDELE and AEEA, Spanish Federation of Schools of Spanish as a Foreign Language at the level of Spain and Andalusia.
Thanks to this certification we guarantee our students that the Spanish classes they receive are not only adapted to their needs, but that they meet the highest and most demanding standards imposed by official organizations.
All of this is put into practice by our team of teachers, with specific training in teaching Spanish as a foreign language, who will prepare you to learn the language efficiently and pass the official official DELE exams exams, SIELE, or the Spanish nationality exam (CCSE)in case you wish to take them.
Our Spanish school in Malaga is accredited by institutions such as Instituto Cervantes, Fedele, Siele and Aftie.
MalagaPlus has extensive experience teaching Spanish to foreigners from all over the world.
Our teachers are passionate about teaching their native language and motivate their students to achieve group interaction.
Our teachers are professionals and implement a teaching method based on communication and dialogue.
A complete program of courses and activities will be the perfect combination to learn not only a language but also the Spanish culture and customs while you visit and go on excursions with other students.
Our school welcomes students from all over the world so the atmosphere is relaxed and international. You will be able to make new friends with students who share the same goal: to learn Spanish.
Malaga is the trendy Spanish destination, not only for its wonderful beaches but also for its excellent climate, cultural program and events throughout the year.
Learning one of the most widely spoken languages in the world will give you the job boost you need to stand out. We prepare you to successfully take the DELE examexam, the Spanish nationality exam (CCSE) (CCSE) or the SIELE exam.
Live your international experience and come to learn Spanish in Malaga!
Anja's experience at Málaga PLUS (The Netherlands)
I can recommend Málaga Plus to everyone. I chose this school because it is outside the center, located in a quiet but lively neighborhood, in Pedregalejo and next to the beach. And also because the school is cheap. With the bus that runs every 10 minutes you get to the center quickly. The school is close to the beach where there are many restaurants and a long promenade. The classes are customizable, as intensive as you want. For me, as a beginner, a little bit of conversation and grammar is perfect. We talked about many topics in Spanish. From my school I organized the whole stay, and the total package is good in comparison price-quality. Malaga for me is pure life.
Where is Sprachcaffe Málaga Plus located?
Our Spanish language school for foreigners is located in the coastal city of Malaga, in Andalusia, southern Spain. In Andalusia, culture and history lovers will find everything they need for an unforgettable vacation.
Studying Spanish in Malaga is a perfect decision for those who love the sea, the sun and a quiet and familiar atmosphere. In addition, we have numerous museums such as the Picasso and Thyssen museums and monuments representative of the cultures that have passed through our land, such as the Arab Alcazaba or the Roman Theater.
Our school is located in the district of Pedregalejo, a quiet residential neighborhood known for its large villas and tree-lined avenues. Only 100 meters away from the seafront promenade, the warm weather of our city will make you enjoy the beach during most of the year. Malaga is known as the Costa del Sol for a reason, with more than 300 days a year without a single cloud.