Spanish courses for adults
With our Spanish courses for adults in Malaga you will be able to learn Spanish in one of the most charming Spanish cities and considered one of the ten best European cities to live in according to the European Commission. A Spanish course opens new doors and offers you the opportunity to meet international people with the same objectives, learn Spanish and exchange experiences.
Whether to study in Malaga, for work or to travel: learn Spanish in Malaga and speak Spanish immersed in the Spanish culture! The language course "Spanish as a foreign language" is aimed at students of all levels who wish to learn or improve their Spanish.
In Málaga PLUS you will find different Spanish courses for adults. You will find the type of course that best suits your needs and the speed at which you wish to progress. Moreover, they are totally flexible, since every Monday we start new courses for all levels, except for absolute beginners. You can see the starting dates and prices by downloading our catalog here.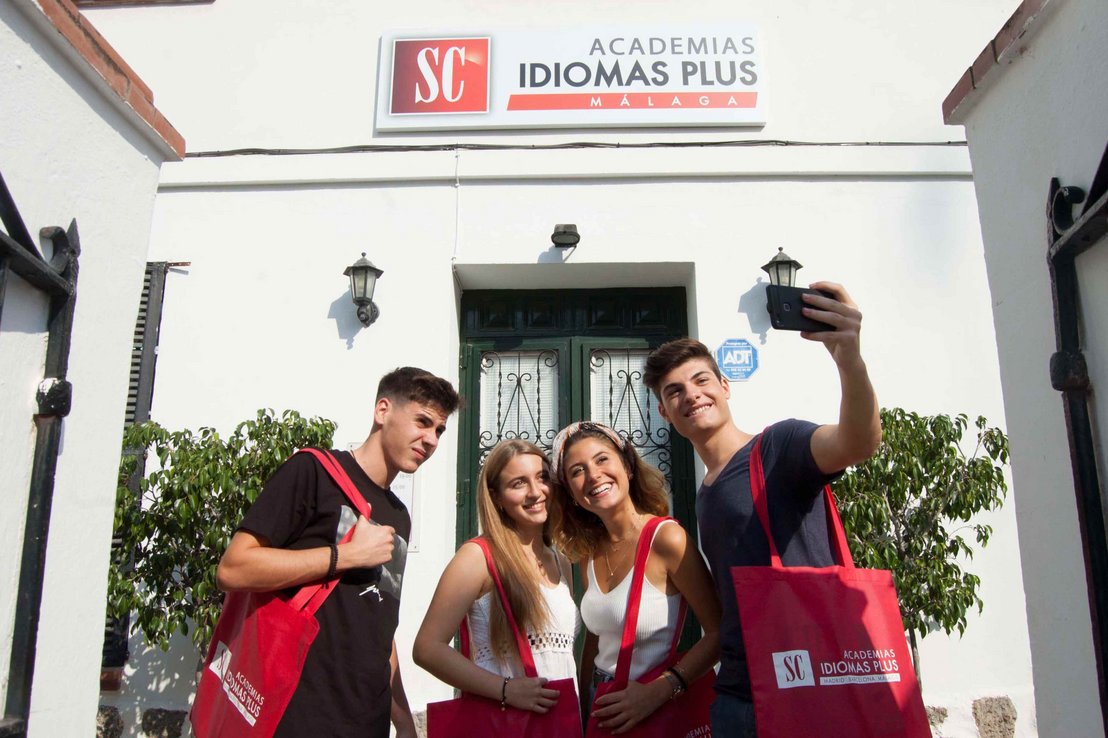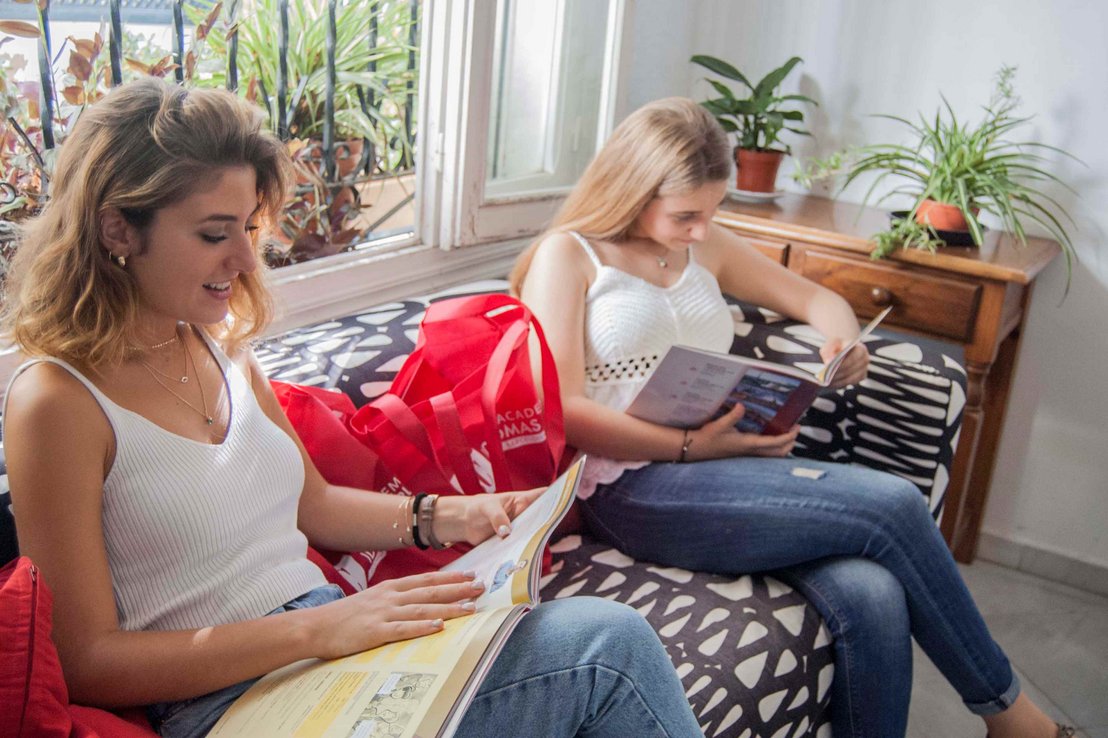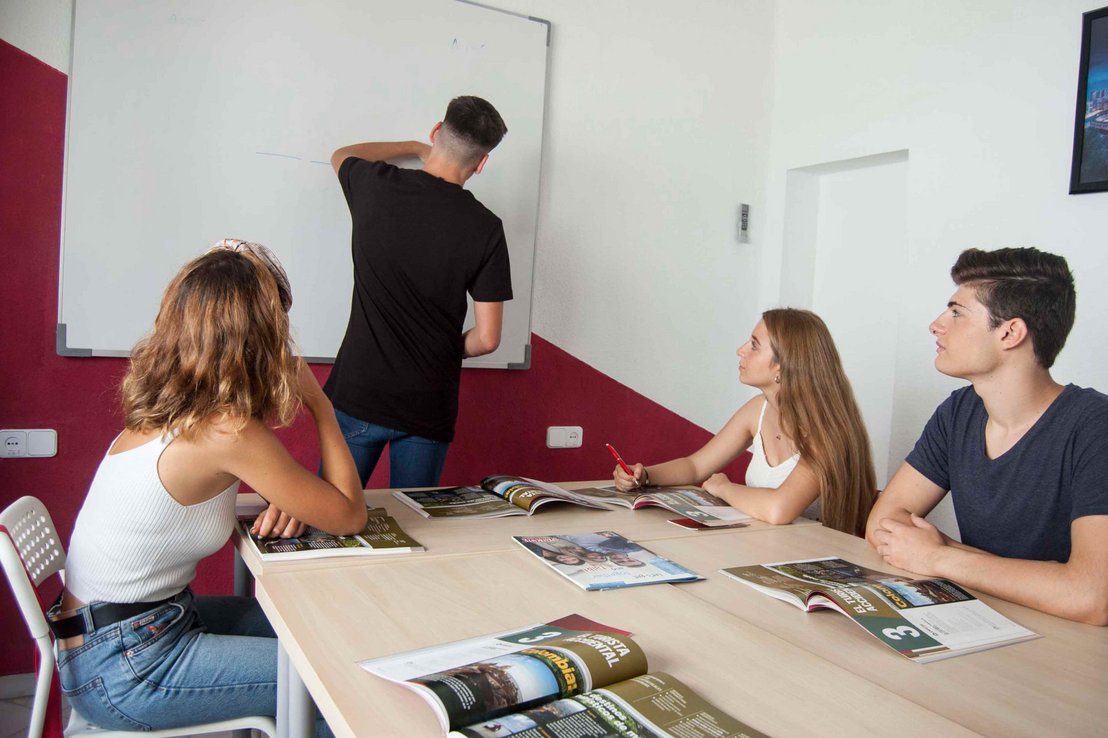 Types of Spanish courses for adults
Our standard Spanish course consists of 20 lessons of 45 minutes per week. Classes take place in the morning, but in high season there may be a second afternoon shift. It is ideal for students who need to learn Spanish at a normal pace, without too much teaching load and who wish to reconcile the course with free time.
✔ Morning shift: from 9:00 a.m. to 12:15 p.m.
✔ Afternoon shift: 12:30 to 16:00
✔ Minimum duration: 1 week
✔ Also available online
The intensive Spanish course consists of 30 lessons of 45 minutes per week. It is designed for students who for professional reasons, or simply for their own interest, need to learn at a more intense pace and dedicate the entire morning to their Spanish lessons. Classes focus on grammatical, lexical, communicative and cultural reinforcement.
✔ Morning shifts only: from 9:00-14:00.
✔ Minimum duration: 1 week
✔ Also available online
Our ELE course is designed for non-native Spanish teachers who wish to recycle their knowledge and keep up to date with the latest ELE teaching techniques. This course has a structure of 20 private lessons per week, or semi-private if 2 teachers travel together and even group if at least 3 teachers travel together.
✔ELE online course also available
Learning Spanish online is possible at Málaga Plus. You can choose between private or group lessons according to the student's needs. Each lesson lasts 45 minutes and is taught by our school's teachers. They have a more flexible schedule that can be arranged directly with the teacher, and all homework and class work is coordinated by email. For private lessons you can buy vouchers of 10, 15 and 20 lessons and use them freely according to your needs.
✔O nline Spanish courses for all ages and levels.
DELE Exam Preparation Course
If you are interested in taking a DELE preparation course in Malaga in our school you can find the best training adapted to the DELE exam date you want to take. In Malaga Plus we help you to meet your language goals and pass your DELE exam!
✔ Also available online
Our school is accredited to carry out the exams to obtain the Spanish nationality CCSE.
The CCSE course is aimed at foreigners who need to obtain the granting of Spanish nationality through the CCSE test (Constitutional and Sociocultural Knowledge of Spain). We help you in the process!
*In our Spanish language school for foreigners, Spanish classes have a minimum of 3 students and a maximum of 10.
If you have any questions about our Spanish courses in Malaga or our online Spanish courses and would like some advice, we look forward to meeting you!
Calculate the price of your Spanish course and program dates for adults:
If you have any questions about our Spanish courses for young learners and would like some advice, we look forward to meeting you!